Channel Marketing Definition: The management of the routes or 'channels' your product takes to reach its end consumer, and the cultivating of the relationships these journeys entail in order to maximise your sales and brand awareness.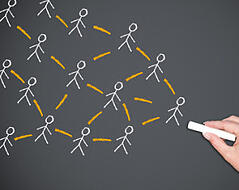 There has never been a more critical time for brands to engage their channel partners as effectively as possible. A long time seen as the 'poor relation' within the marketing mix, Channel Marketing is now proving itself as an essential element in a brand's journey.
Here, Becky McKinlay, Managing Director of channel marketing specialists and independent marketing communications agency, Ambition offers her guide for securing an effective channel marketing strategy.
Build good relationships in your channel marketing
Brands need to work with agencies who truly understand their channels and the partners and staff who work within them. Long-lasting channel campaigns are those that engage with the individuals within each channel and create an ambassadorial feel amongst them for the products they are selling.
In the same way that brands pour over the ideas that will engage and motivate consumers, so they need to understand the motivations that exist within their trade and channel partners.
Creative channel marketing works best
Why do some brands sing so strongly off a shelf and seem to be so naturally promoted by individuals within retailers? It's because they've got their channel marketing strategy right – they've considered what will motivate their partners in order that they can influence sales.
This engagement is critical and needs to start with creativity – not just in the way the communications look, but in terms of the incentives themselves, the mechanics deployed and how information is disseminated and retained.
What about the telecoms re-seller who only feels confident promoting the device he/she uses? How can they be educated that sales will increase if they can happily match consumer need to various product / brand benefits?
Integrated channel marketing strategy
And a successful channel strategy should be integrated in the same way as a consumer facing one – experiential activities, one to one comms, promotional marketing and digital formats all need to be considered as part of the overall engagement, education and incentive activity. All have their individual parts to play and will work harder as a unified channel marketing strategy than looking at one in isolation of the other.